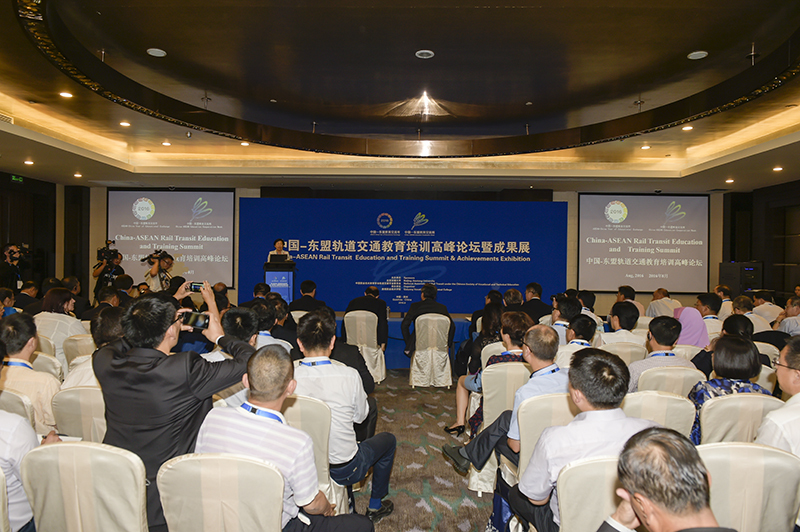 From July 31 to August 3, 2016, the China-ASEAN Rail Traffic Education and Training Summit and Achievement Exhibition that co-hosted by Beijing Jiaotong University and the Professional Committee of Rail Traffic, Chinese Society of Vocational and Technical Education, and undertaken by Guiyang Vocational and Technical College was kicked off in Guiyang City. The China-ASEAN Rail Traffic Education and Training Summit and Achievement Exhibition is an important event of the 9th China-ASEAN Education Cooperation Week, themed by "development of rail traffic and education of application-oriented talents", presented the achievements of China's rail traffic institutes on talent cultivation and scientific research, establish the platform of rail transit education and training between China and ASEAN and provide intellectual support for the "Belt and Road" Initiatives.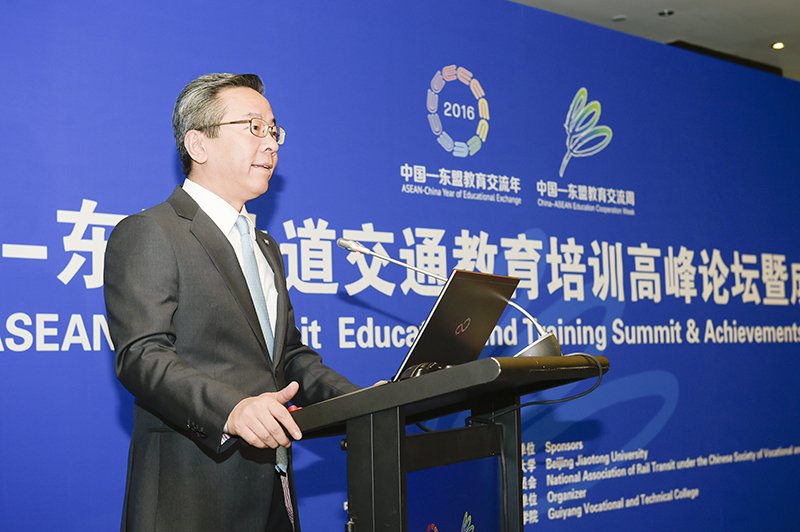 LU Yongzheng, Vice Governor of Guizhou Provincial Government, firstly addressed the Summit. He pointed out that it is of great significance of hold the China-ASEAN Education Cooperation Week. Traffic and Education has been linked together. He hoped that the holding of the Summit would help promote the future development of Guizhou Province.
ZHAO Lingshan, Deputy Director of Department of International Cooperation and Exchanges, Ministry of Education, China, pointed out that this Summit has innovatively invited the enterprises to attend, forming the composition forces among the institutes and enterprises of China and ASEAN countries which help promote the bilateral and multi-lateral cooperation between China and ASEAN countries.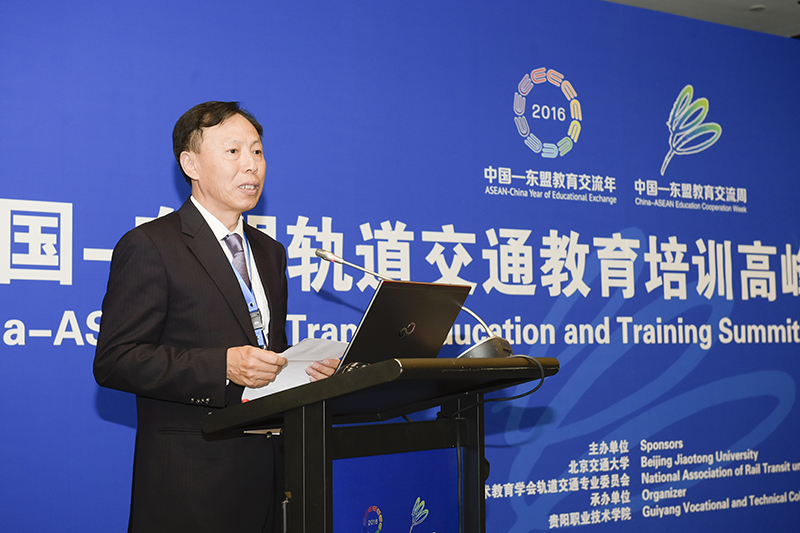 LIU Baoli, Executive Secretary-General of the Secretariat of the Organizing Committee of the 9th CAECW, spoke highly of the Summit. He thought this Summit is a highlighter of CAECW and the most unusual and practical high-level summit since the founding of CAECW in 2008.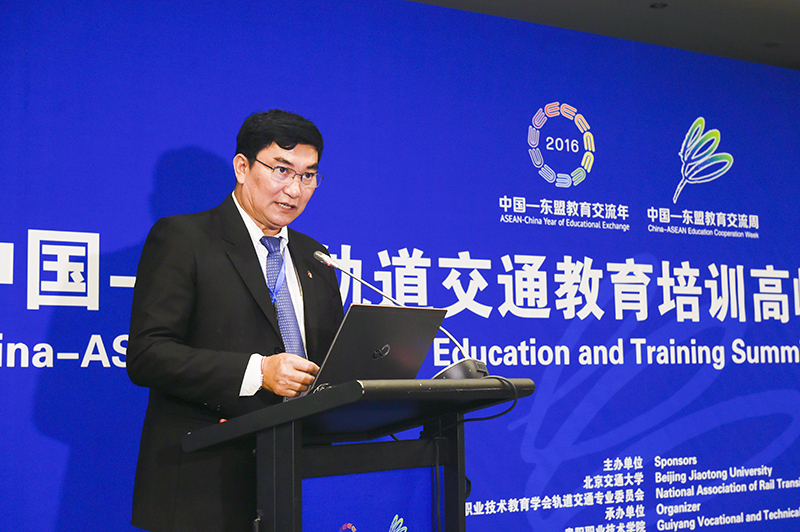 Nouphanh Outsa, Director General of Technical and Vocational Education Department, Ministry of Education and Sports, Laos, reviewed the friendly relations of the governments and people between Laos and China. He hoped that through this event Laos and Chinese institutes and enterprises would carry out more cooperation on the education and training of rail transit.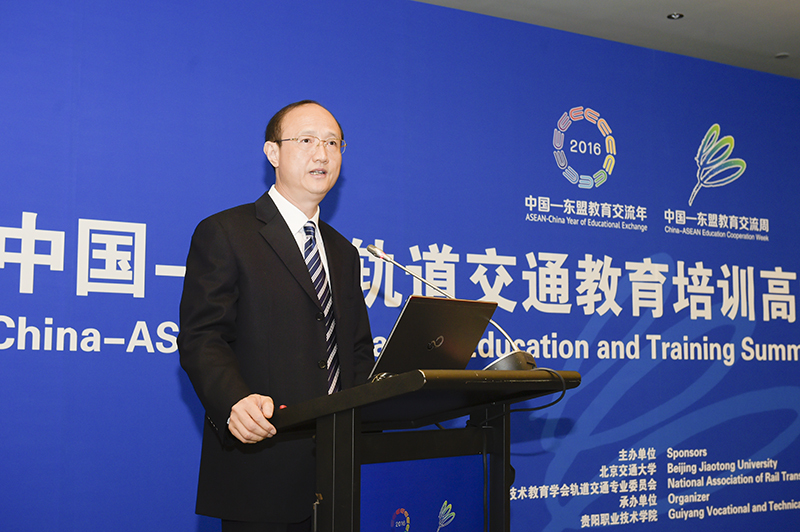 ZHENG Jian, Party Member of the National Railway Administration, gave a keynote report entitled "China Railway on Fast Track". He hoped that China and ASEAM institutes would take this Summit as an opportunity, to explore cooperative modes, establish educational platform and jointly carry out talents cultivation of application-oriented on rail transit, to provide intellectual support for the railway development of ASEAN countries.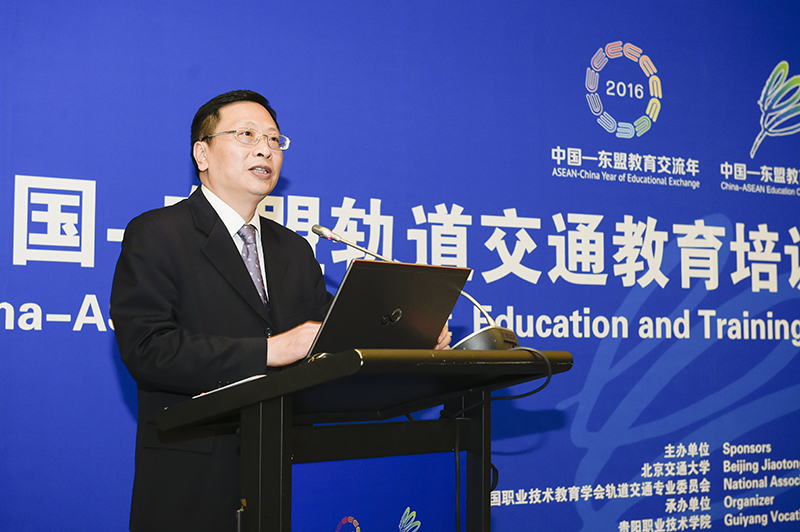 CAO Guoyong, Chairman of the University Council, BJTU, gave the keynote speech entitled "Highlight Features and Serve "Belt and Road" Initiative". He pointed out that the "Belt and Road" Initiative" has brought about new opportunities to the internationalization of higher education. It would help promote the deep-level cooperation among the institutes along the "Belt and Road" Initiative". BJTU, with a long history of 120 years, would give full play its features on rail transit to actively promote cross-boarder education with ASEAN countries. He also put forward the following three proposals: First, Establish the association of higher education to promote institute-institute and institute-enterprise cooperation; Second, establish the basic criteria for talents cultivation to promote the mutual recognition of credits; Third, Set up special funds to enhance people-to-people exchange.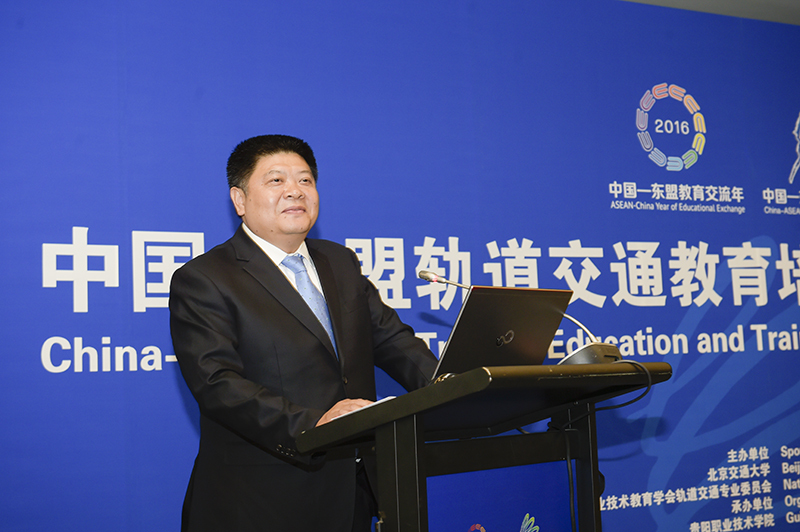 YU Weiping, Vice President of CRRC Corporation Limited, pointed out that the launching of the Association of China-ASEAN Rail Traffic Education and Training would combine with the institutes and enterprises from China and ASEAN countries to initiate the training models of "Institute-Institute". "Institute-Enterprise", "Institute-Enterprise-Institute" and "Enterprise-Institute-Enterprise" to cultivate more talents on rail transit technology and help ASEAN countries to develop more rapidly.
Dr. Khairir Khalir, General Manager of Land Public Transport Commission of Malaysia, hoped that through the Summit and Achievements Exhibition, more collaborations and exchange would be strengthened between SPAD and ASEAN countries.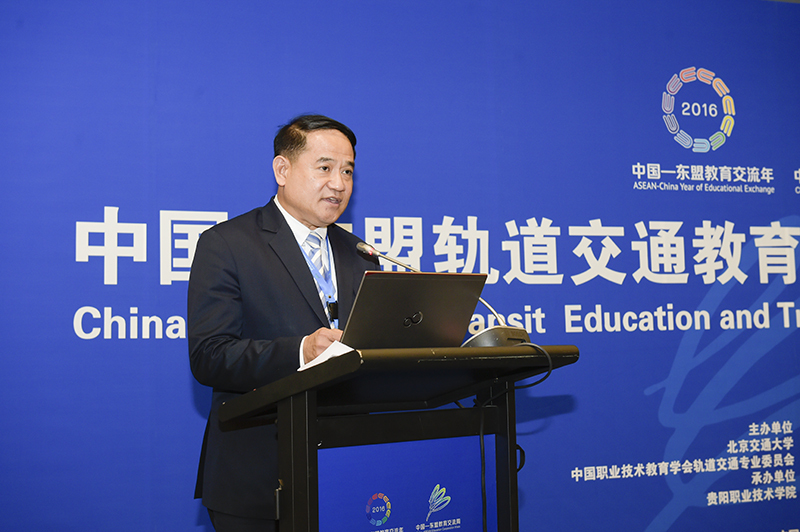 Dr. Sommai Pivsa-Art, Vice President of RMUTT, Thailand, hoped that through this Summit, RMUTT would build up cooperative relations with Chinese educational and training institutes of rail transit and promote practical cooperation.
This Summit includes Keynote Speech, Free Speech and Cooperation Talks on Application-Oriented Talents Cultivation of Rail Transit. Three major topics are included: Talents Cultivation and Cooperation for China-ASEAN Institutes Under the Leaping Development of Rail Transit. Institute-Enterprise Cooperation in Promoting Talents Cultivation of Rail Transit and Cooperation Talks on Application-Oriented Talents Cultivation of Rail Transit.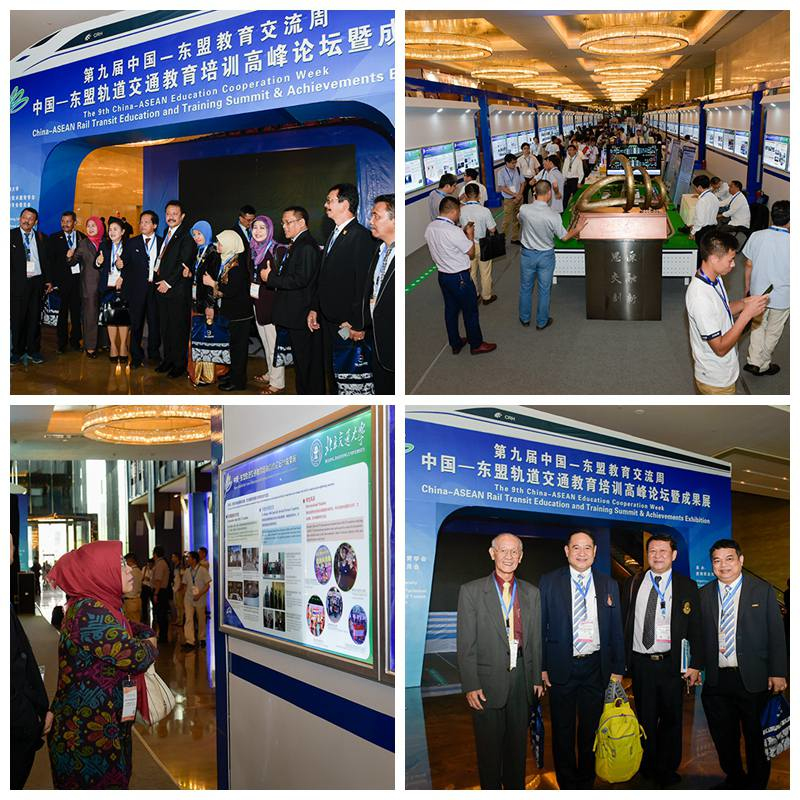 The Achievements Exhibition showed over 100 exhibition panels and tangible exhibits from 35 institutes.
Nearly 300 participants including the highly-ranked officials from China's Ministry of Education, National Railway Administration, ASEAN governments, Chinese and ASEAN universities and well-famous experts and scholars attended the event. Besides, guests from the specially-invited partner countries such as Russia and Mongolia were also presented at the event. BJTU Vice President CHEN Feng and SUN Shouguang also took part in the related activities.