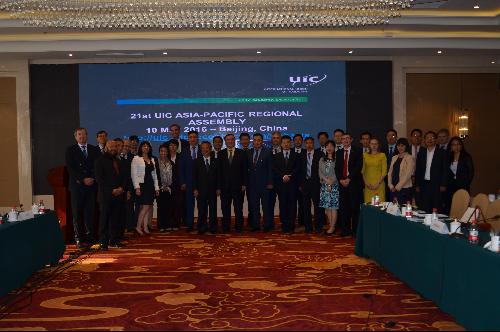 0n May 10, 2016, the 21st UIC Asia-Pacific Regional Assembly was kicked off in Beijing. UIC Director General Jean-Pierre Loubinoux and 50 delegates from UIC Headquarters and Asia-Pacific Region participated in this conference. Academician HE Huawu from China Railway Corporation addressed the conference. As the member of UIC, Vice President SUN Shouguang and CAI Baigen, Director of Research from BJTU participated in the conference.
The conference heard of the annual work report of UIC Asia-Pacific Region and Planning of Science Programs (2016-2019) and discussed the railway cooperation mechanism and future development of UIC Asia-Pacific Region. On May 11, the delegates visited the State Key Laboratory of Rail Traffic Control and Safety, National Engineering Research Center of Rail Transit Operation and Control System as well as the National Accredited Laboratory of Structure Strength Text.
From May 12 to 13, UIC held the Symposium on High-speed Railway Passenger Service Safety and Quality Standard in Beijing. Two professors from the School of Traffic and Transportation gave the speeches during the symposium.
Principals from the Office of Research, School of Mechanical, Electronic and Control Engineering and School of Traffic and Transportation were also present at the above activities.