From May 5 to 6, 2016, the delegation of six people from INSA Group, France, visited BJTU and Weihai Campus. Both parties have signed the MoU which laid solid foundations for the future cooperation.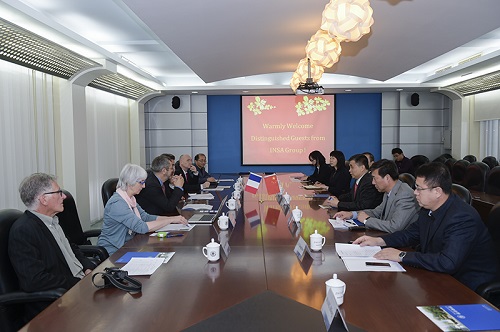 On the morning of May 5, 2016, President NING Bin met with the delegation from INSA Group led by Jean-Marie CASTELAIN, Director of INSA Val de Loire. NING Bin introduced the remarkable achievements BJTU has made on international cooperation in recent years. He hoped that the cooperative relations between BJTU and INSA Lyon would extend to the whole INSA Group and carry out comprehensive cooperation on faculty exchange and scientific research.
Jean-Marie CASTELAIN introduced the faculty, students, disciplines, talent cultivation and international cooperation of INSA Group. He said both sides share extensive cooperative areas. He would like to conduct all-round cooperation with BJTU.
Vice President CHEN Feng introduced BJTU on its active participation in the development of China's railways. He hoped that both sides would expand cooperative areas and provide talent support for the bilateral cooperation.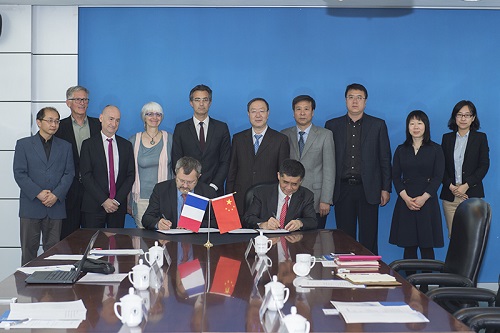 Both sides have reached consensus on extending cooperative areas and also signed the MoU. Prof. Bertrand RAQUET, Director of INSA Toulouse, Prof. Mireille DUCASSE, Director of International Relations Office of INSA Rennes, Prof. Gerard-Vincent MARTIN, Representative of INSA Rouen, Prof. Jean-Claude BOYER, Head of Project of INSA Lyon, Prof. Yuemin ZHU, China Affairs Coordinator of INSA Lyon as well as as principals from the Office of Academic Affairs and Office of International Affairs at BJTU were also present at the meeting.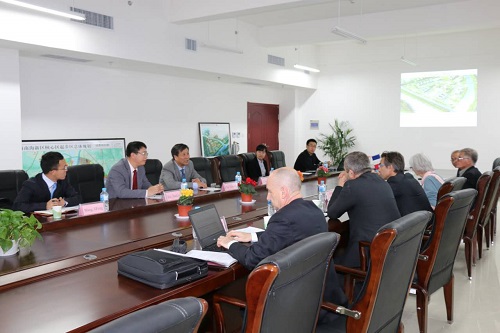 From May 5 to 6, the guests also visited the Weihai Campus of BJTU. Principals from the Weihai Campus introduced the basic facts, school running and future planning of the Campus. Both sides have conducted in-depth discussions and reached cooperative intents on further enhancing cooperation in engineering. The guests also visited the Library, labs and Information Center of the Campus. Besides, they visited the Incubator and Blue Entrepreneur Valley in Nanhai New District of Weihai City.