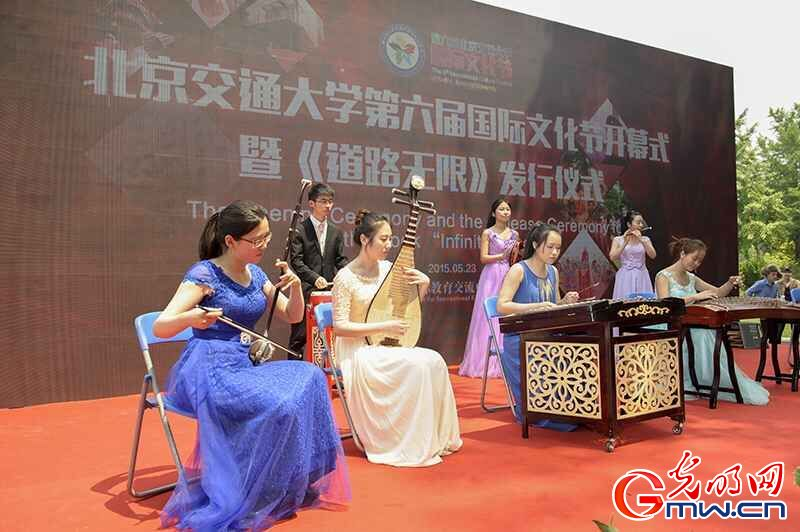 On May 23, 2015, the Opening Ceremony of the 6th International Culture Festival of Beijing Jiaotong University and the Release Ceremony for the Book "Infinite Road" was successfully held in front of the Tianyou Hall. 25 diplomats from 20 countries including Sudan, Bahamas, Romania and Democratic Republic of Congo were present at the ceremony. Vice President CHEN Feng and Mr. Numbi Kayembe Valentin, Minster Councilor of the Embassy of Democratic Republic of Congo gave a speech, respectively. The theme of this festival is called "Global Campus: Gateway to Infinity".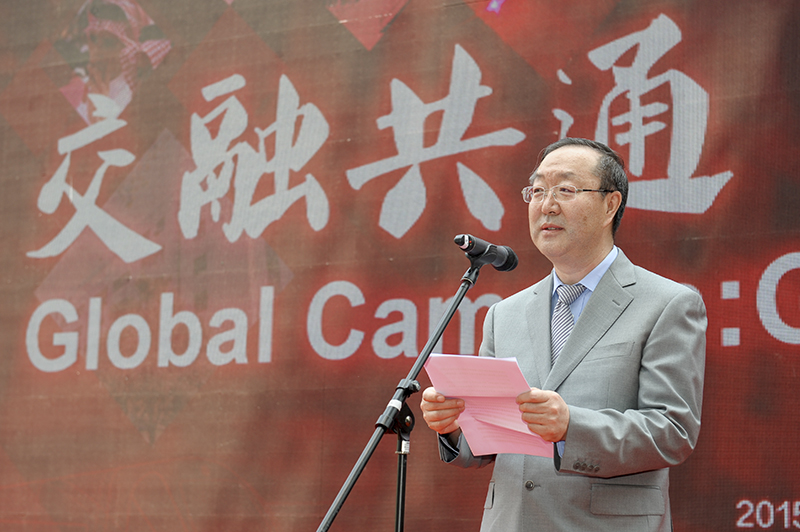 Vice President CHEN Feng highlighted that this year is the "internationalization construction year" of BJTU and spoke highly of the achievements we have made on international education cooperation. He said this February we have signed agreement with Saint Petersburg State Transport University on the joint establishment of the Russia-China Jiaotong Institute, becoming the first overseas educational institute of China's higher education that focuses on science and engineering. In April, the third Confucius Institute of BJTU--- State University of Campinas Confucius Institute, Brazil was inaugurated. At the same time, the BJTU Weihai Campus was officially approved by the Ministry of Education. As a showplace of our international education cooperation achievements, this International Culture Festival revealed the cultural communication, harmonious ambience and splendid study-aboard experiences of the international students.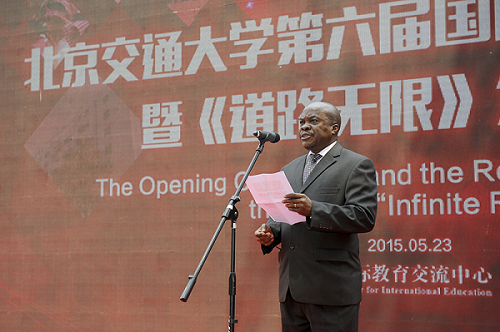 Mr. Numbi Kayambe addressed the ceremony and said the Democratic Republic of Congo, along with China, has its own dream. The proposal of "China Dream" helps to achieve national revitalization and raise people's living standards. The D.R. Congo also has its own dream to achieve rapid development. He added that the cooperation between China and Africa is on the basis of mutual respect and benefit, which exerts positive influence on the deepening cooperative relations between China and D.R. Congo.




The book "Infinite Road" covers a long history of cultural exchange between BJTU and Saint Petersburg State Transport University and records the great contributions made by the older generation of experts and professors on China's higher education, railway as well as Beijing Jiaotong University. During the book publication ceremony, CHEN Feng presented the books for Prof. YUAN Baozong, Prof. LI Chengshu, Prof. YAO Guangqi and Prof. YANG Chao who has ever studied in Russia. CHEN expressed gratitude to them for their contributions on the scientific research and education of China's railways.