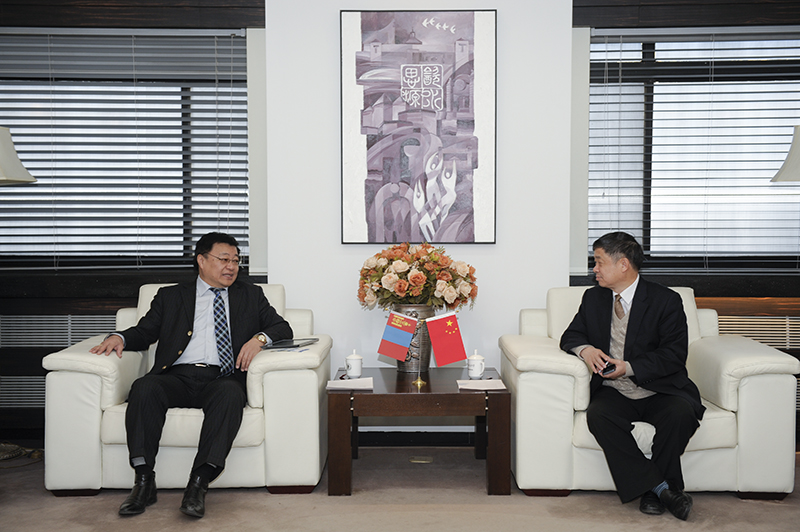 On the afternoon of January 28, 2015, Vice President ZHANG Xingchen met with Mr. Ganbat Dangaa, Advisor to the Minister of Road and Transport of Mongolia.

ZHANG Xingchen extended welcome to Mr. Ganbat Dangaa on behalf of President NING Bin. He said both the Ministry of Road and Transport of Mongolia and BJTU have achieved remarkable fruits in jointly cultivating students in recent years. Currently several Mongolian graduates are holding important positions in the field of traffic and transportation in Mongolia. He hoped that both sides would further strengthen cooperation, expand the modes of talents cultivation, utilize the facilities of Weihai Campus to conduct joint education programs and strive for more scholarship sources to support Mongolian teachers and students to study at BJTU.

Mr. Ganbat Dangaa conveyed the greetings of the newly-appointed Minister of Road and Transport of Mongolia and expressed gratitude to BJTU for the cultivation of Mongolian students. He said the Chinese President XI Jinping visited Mongolia last year and committed to offer 1,000 more Chinese government scholarships to Mongolia in the next five years. Now the Ministry of Road and Transport of Mongolia is striving for more scholarship quotas allocated for students who study traffic and transportation. As the visiting professor of the School of Mechanical Engineering, Mongolian University of Science and Technology , he hoped that the newly-established School of Electromechanical Transportation and BJTU would carry out more cooperation and exchange.

Principals from the Center for International Education and Office of New Campus Construction were also present at the meeting.