Invited by Rochester Institute of Technology (RIT), U.S, University of Rochester (UR), U.S., Delft University of Technology (TU Delft), Holland and KU Leuven (KUL), Belgium, President NING Bin led a five-member delegation to visit the four universities from October 29 to November 5, 2014.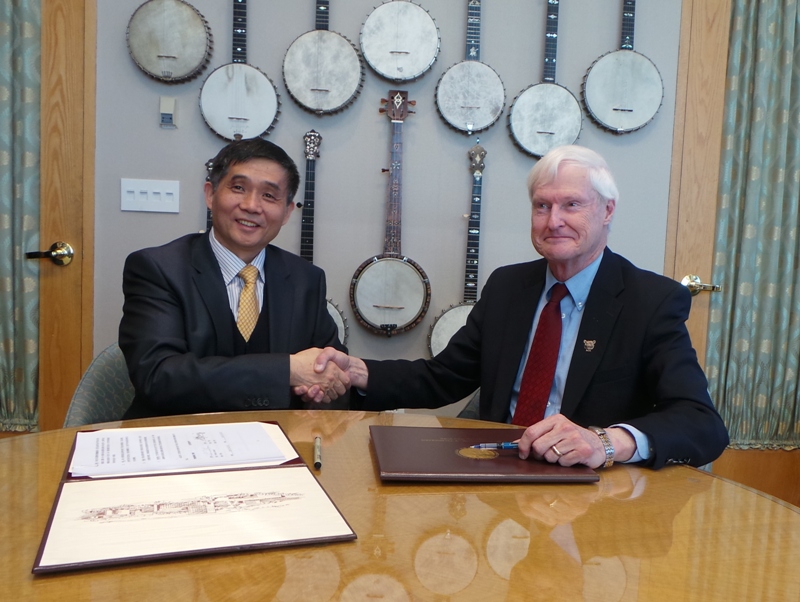 On October 30, RIT President Dr. Destler, along with all the vice presidents and principals from some relevant colleges, conducted fruitful talks with BJTU delegates. Based on the MoU signed in January 2014, both sides conducted in-depth discussion on joint education program at BJTU International College (Weihai) and future cooperation and development, resulting in consensus on enlarging cooperation field and scope. After the meeting, President NING Bin and Destler signed two joint education program agreements on behalf of each university.




During the visit at RIT, the delegates and Dr. Myers, Vice Dean (Academic Research) of RIT held talks with 11 graduates and undergraduates studying here from the School of Economics and Management, BJTU based on the bilateral joint education program. After hearing their experiences, feelings and suggestions from the students, NING encouraged them to study hard, strengthen exchanges with local students and play the role of exchange envoy between the two universities and China and the United States.




The delegates also visited the Mechanical and Electrical Engineering Laboratory, the Institute for Sustainable Development and the Center for Student Innovation at RIT. They were also deeply impressed by their advanced concepts of talents cultivation, focus on practical teaching and sensibility and attentions toward international science and technology research hotspot of the faculties.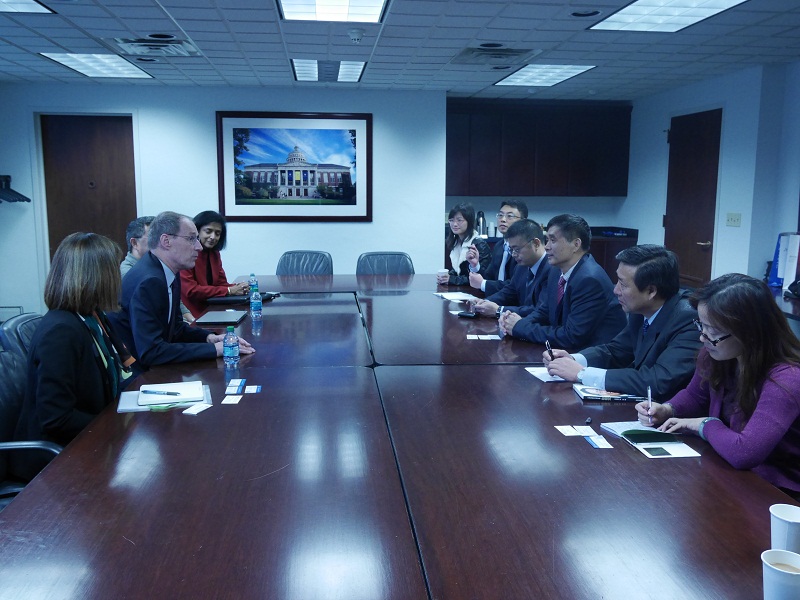 On October 31, the delegation visited the University of Rochester (UR). NING Bin discussed the formally establishment of comprehensive cooperative relations, the joint education program of Ph.D. students and teacher-student exchange with Prof. Peter Lennie, Senior Vice President and Dean (Academic Research) of RIT. Both sides reached agreements in many fields and looked forward to putting into practice as soon as possible. The delegates also visited the UR Library and Student Activity Center. They were greatly impressed by the strong academic atmosphere and colorful extracurricular activities at UR.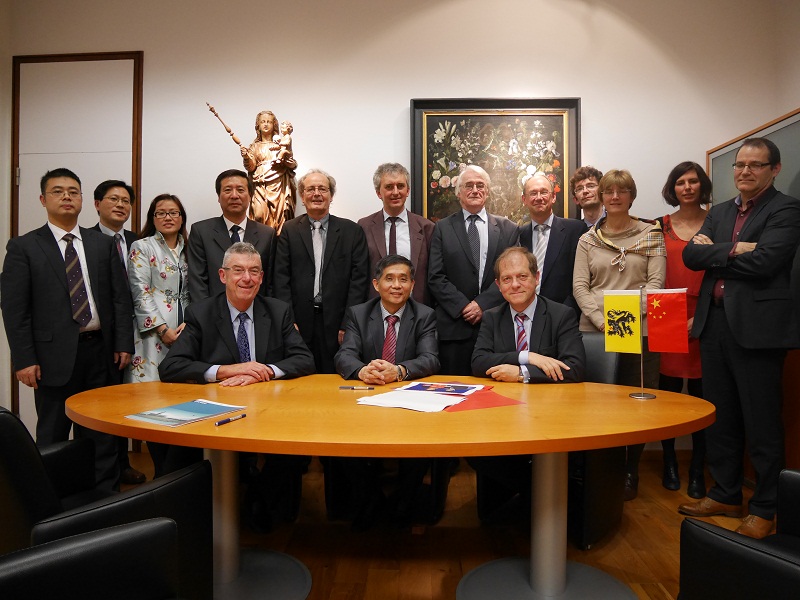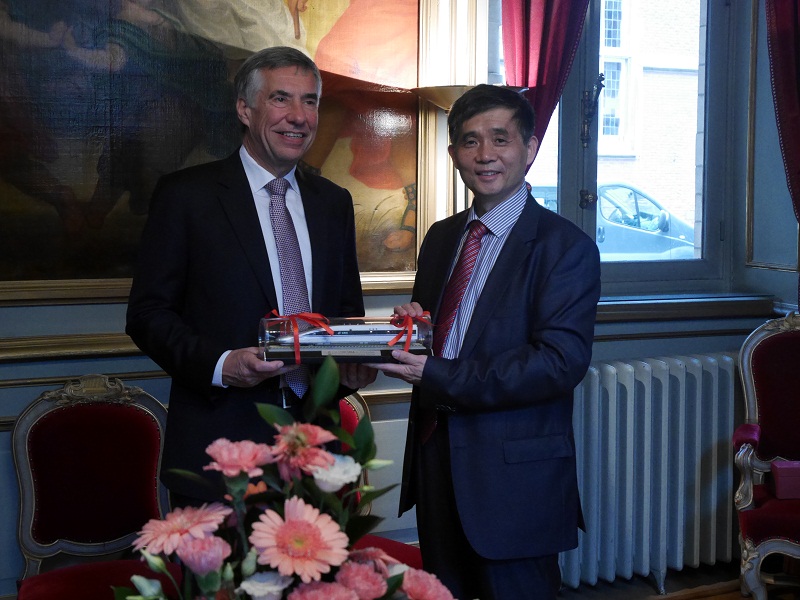 On November 4, NING Bin visited KU Leuven (KUL), Belgium which cherishes a long history of cooperation with BJTU. Rector Prof. Rik Torfs, Vice Rector Prof. Georges Gielen and Dr. Oosterlinck, Chairman of Leuven Higher Education Consortium discussed the future development of Confucius Institute, the preparing Sino-foreign cooperative education program and the joint education program with a history of more than 10 years with BJTU delegates. During the visit, President NING Bin, along with Prof. Rik Torfs, Mr. Johan De Graeve, President of GROUP-T, Mr. Auther, Vice President of GROUP-T and Dr. KrisWillems, Dean of the Faculty of Engineering Technology, KU Leuven renewed the agreements of international dual degree program. After the meeting, the delegates also met with Mr. Devliens, Deputy Mayor of the city of Leuven and visited the City Hall, KU Leuven Affiliated Hospital and KU Leuven bio-medical laboratory.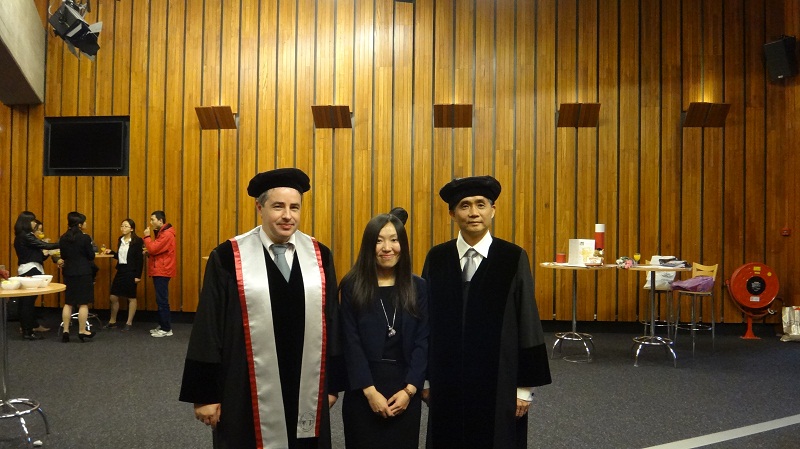 On November 3, NING Bin was invited to the Ph.D. students (joint education program) thesis defense as a member of Thesis Defense Committee at TU Delft. During the thesis defense, NING discussed further joint education program of Ph.D. students with professors of TU Delft.

BJTU's visit of the four universities was a complete success and has achieved the desired objectives, which gave momentum to the international cooperation of the University.

Assistant President XU Yugong and principals from the School of Economics and Management, the Office of Real Estate Management and the Office of International Affairs also visited the four universities.