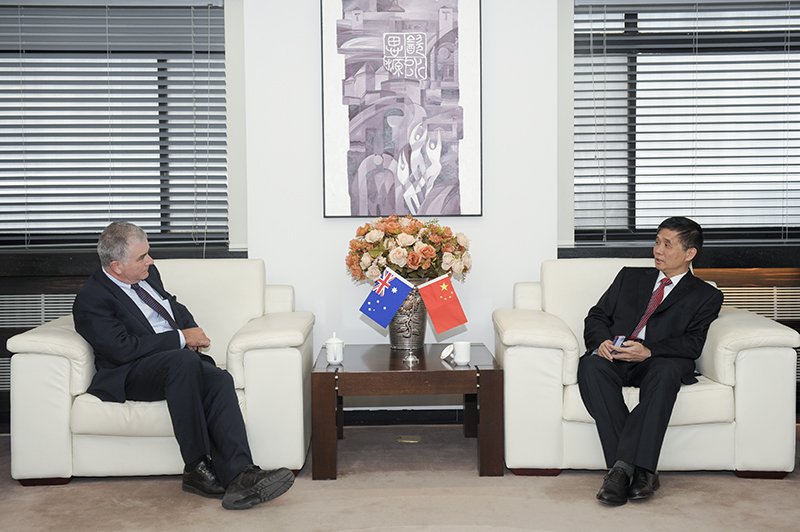 On the afternoon of October 17, 2014, President NING Bin met with Prof. Ian O'Conner, Vice Chancellor & President of Griffith University, Prof. Sarah Todd, Pro-Vice-Chancellor (International) at Griffith University and Mr. Thomas Toh, Regional Director (Greater China) from Griffith University, Australia.

President NING Bin extended welcome to the guests on behalf of BJTU and expressed gratitude to Griffith University for the warm reception during BJTU's visit this May. NING introduced the talents cultivation, disciplinary construction, international cooperation and exchange and new campus construction. NING Bin also briefed BJTU's contributions to the development of traffic and transportation, especially in the construction of China's high-speed railways. NING spoke highly of the achievements both sides have made in the cooperation of tourism management. He hoped that both sides would enhance cooperation in the emerging engineering field of new energy and robotics, combining both advantages so as to make research breakthrough. Also, he welcomed students from Griffith University to study and intern at BJTU.

Prof. Ian O'Conner expressed gratitude to BJTU for the hospitality and introduced the development of engineering disciplines of Griffith University in recent years. He expected to carry out students exchange and scientific research cooperation with BJTU in engineering education. Meanwhile, he introduced the "New Colombo Plan" established by Australian government to encourage Australian students to study in Asian universities. He said he is willing to jointly apply for the Plan with BJTU to attract more students from Griffith University to study and intern here. Through students exchange both sides could strengthen and expand bilateral cooperation.

During the meeting, both sides have also exchanged views on alumni development, expecting to further strengthen the hardware and software of the University through our alumni resources.




Principals from the Office of General Administration and the Office of International Affairs were also present at the meeting.