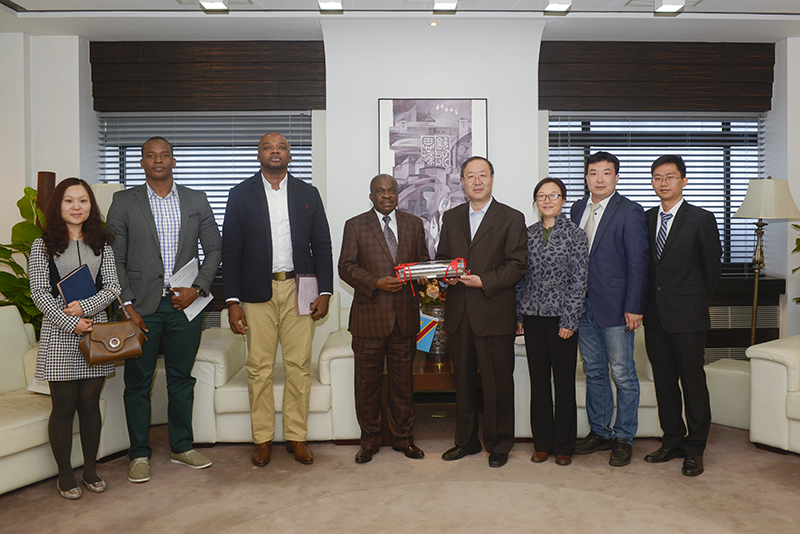 On October 13, 2014, Vice President CHEN Feng met with the delegation from the Embassy of the Democratic Republic of Congo led by Minister Councilor Mr. Numbi Kayembe Valentin and held talks with the guests. Both sides exchanged views on railway talents cultivation and future cooperation areas. BJTU alumni Kayenga Jokay and Kankonde Clement were also present at the meeting.




CHEN Feng extended welcome to the delegation on behalf of BJTU. He introduced the school-running characteristics of the University on railway and urban rail transit and BJTU's support in the railway disciplinary construction and personnel training for India and Thailand. He hoped that both sides would conduct cooperation on railway infrastructure construction and talents cultivation.

Mr. Numbi Kayembe Valentin said Congolese people had set the goal of transforming into an economic booming country by 2030. Currently there is an urgent need for the country to construct domestic railway network and reserve railway talents. He hoped that both sides would carry out cooperation soon.

After the meeting, the delegation also visited the State Key Laboratory of Rail Traffic Control and Safety and the National Traffic and Transportation Teaching Demonstration Center.

This visit was facilitated by BJTU alumnus Mr. Kayenga Jokay. When he returned to his motherland, he concerned a lot of his alma mater. He devoted himself to the realization of both domestic and Chinese dream, putting forward the idea of "Congo 2020?Congolese Dream" on talents development program and promoting cooperation between Congo and BJTU. In recent years, more and more overseas alumni from BJTU have facilitated the substantial cooperation between BJTU and other countries.