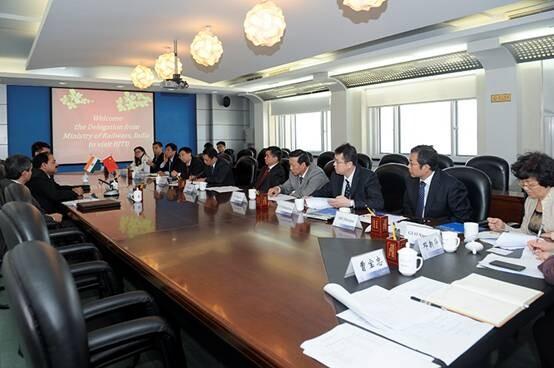 On the morning of October 13, 2014, President NING Bin met with the delegation from the Ministry of Railways of India led by Mr. Rajiv Ranjan Prasad, Executive Director of Training & Man Power Planning and Mr. Nikhil Pandey, Executive Director of Efficiency and Research. President NING presented a HSR model to the delegation.

President NING Bin extended welcome to the guests on behalf of BJTU and introduced China's higher education system and the general information of the University in terms of history, education scale, talents cultivation, scientific research, international cooperation and development strategy. He hoped that this visit would help strengthen mutual understanding between BJTU and the Ministry of Railways of India and Indian higher educational institutions. Meanwhile, BJTU will respond actively to the railway MoU and Action Plan signed both by BJTU and Indian Railway Board which were included in the joint statement signed between China and India with the title of "Building Closer Partnership for Development" on September 19. According to the contract, BJTU will provide training programs on heavy-haul railway transportation for 100 Indian railway officials.

Mr. Rajiv Ranjan Prasad said the Sino-Indian cooperation in the field of railway has built up a solid foundation for the close relations between the Ministry of Railways of India and Chinese railway universities. India is about to embark on a motion on the establishment of railway university. He welcomed BJTU to participate in the construction of Indian Railway University with the advantage of rail transit. He said he would like to help BJTU build up relations with Indian universities, support mutual academic exchange in the field of rail transit and anticipate the upcoming training programs on heavy-haul railway transportation.

Assistant President XU Yugong and principals from relevant functional departments were also present at the meeting. During the meeting, the guests have raised many questions on student enrollment, talents cultivation, university-enterprise cooperation, sources of funding and employment, etc. Principals from relevant departments answered those questions in detail.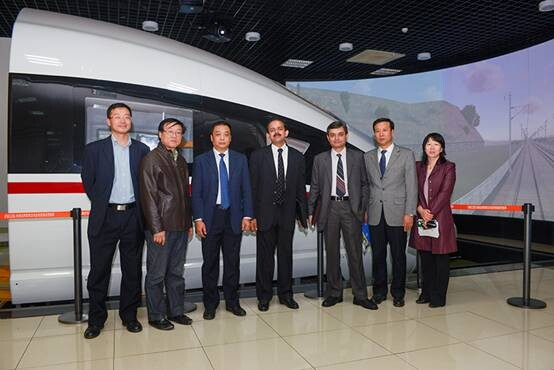 After the meeting, the delegation also visited our State Key Laboratory of Rail Traffic Control and Safety, the Transportation Equipment Education Hall, the National Traffic and Transportation Teaching Platform, the Structure Strength Test Laboratory, the Mechanical Engineering Teaching Experimental Center, the Wind Tunnel Laboratory, the Tunnel and Underground Engineering Experiment Research Center, the Center for Electric Traction of the Ministry of Education and the EMC National Accredited Laboratory. They also spoke highly of the achievements the University has made in research.