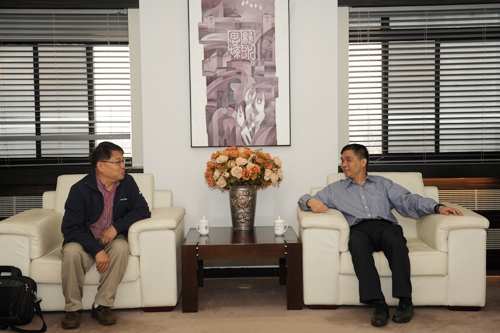 On the morning of September 26, 2014, President NING Bin met with Prof. XIA Xiaohua, Academician of the Academy of Science of South Africa (ASSAf) and South Africa Academy of Engineering (SAAE). He is also served as the Director of the Center of New Energy Systems (CNES).

NING Bin extended welcome to Prof. XIA Xiaohua's visit. He pointed out Beijing Jiaotong University has made great contributions to the development of traffic & transportation, especially in the construction of China's high-speed railways. In recent years, the energy saving, emission reduction and green development of the rail and transit industry has attracted more and more attention. BJTU has been attaching great importance to the interdisciplinary development of the rail transit industry and to expanding cooperation with enterprises and scientific research institutions. Significant progress has also been made by related scientific research groups. NING hoped that Prof. XIA's visit would help BJTU establish links between BJTU and organizations in South Africa on rail transit and energy. The future research work will be centering at South Africa while covering the whole African regions, which will also serve China's railway "going out" strategy and diplomatic undertakings.

Prof. XIA Xiaohua extended gratitude for the hospitality and expressed appreciation for BJTU's research efforts in the fields of rail transit and energy. He gave a brief introduction on the railway and energy research development in South Africa. Meanwhile, he looked forward to establishing cooperative relationship with BJTU, with the support of Chinese enterprises in South Africa along with the scientific research strength of BJTU, to apply for the international scientific research and government-funded projects, as well as to provide talents and technical supports for the upcoming construction work of high-speed railway in South Africa.

Principals from School of Electrical Engineering and the Office of International Affairs were also present at the meeting.

After the meeting, Prof. XIA Xiaohua visited the Power Battery Application Laboratory and was invited to the "Dialogue with Great Masters" Forum.