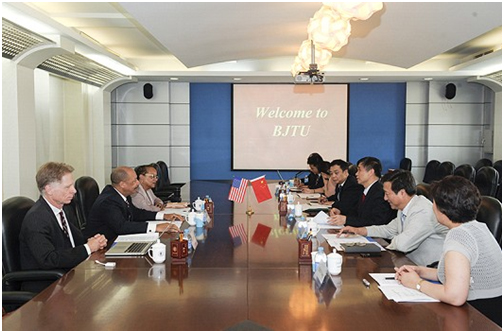 On the afternoon of June 24, the first board meeting of Texas Southern University Confucius Institute was held in BJTU. John M. Rudley, President of Texas Southern University, President NING Bin, Vice President LIU Jun and Assistant President XU Yugong of BJTU attended the meeting.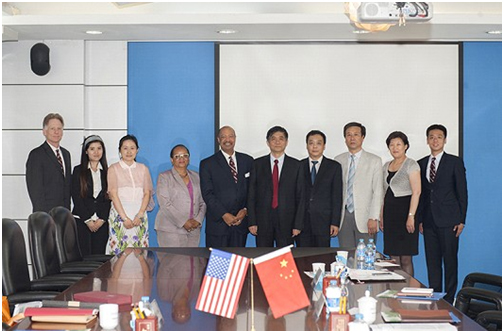 President NING Bin extended warm welcome to the guests on behalf of BJTU. He expressed gratitude to John M. Rudley for his continuing support of the work of TSU Confucius Institute. President NING Bin said although the Confucius Institute at Texas Southern University was newly-established, it has made extraordinary accomplishments in the fields of Chinese language teaching and cultural communication in the Greater Houston area. Meanwhile, the educational cooperation and exchanges on both sides have also made substantive progress. President NING hoped that through this board meeting both sides could set specific goals for the development goals of Confucius Institute and make out the 5-Year Strategy Plan, deepen mutual communication, exploit potential resources, increase input and create more brilliant achievements.

President John M. Rudley expressed gratitude to BJTU and appreciated the work BJTU has done in the establishment, inauguration and development of TSU Confucius Institute. He said BJTU is one of the most important partners of Texas Southern University. The establishment of Confucius Institute in the Greater Houston area has landmark significance. The development of Confucius Institute has been greatly supported by community in the Greater Houston area. Meanwhile, residents in Houston placed high expectations on the development of Confucius Institute.

Both sides reviewed the work related to Confucius Institute in the past year and the meeting approved the report of 2013 Final Accounting of Expenditure and 2014 Budget Accounting. Also, both sides held in-depth and detailed discussions over the development purposes, missions and development plans of TSU Confucius Institute in the future five years, reaching consensus on cooperation in several fields. In the next year, both sides will make joint efforts to conduct a series of activities: offering Chinese Studies minor at Texas Southern University, starting Confucius classroom in the primary and middle schools in the Houston area, celebrating the 10th anniversary of the founding of the Confucius Institute themed by "World Confucius Institute Day", holding BJTU students Study Tour in TSU, welcoming Texas Southern University basketball team's visit to BJTU, organizing summer camps, holding international academic seminars on civil engineering and transportation engineering as well as organizing exchange programs in short and long term. Besides, BJTU will offer supports for the establishment of China Center at Texas Southern University.

Danille K. Taylor, Dean of the College of Humanities, Texas Southern University, Roger Hart, Dean of Confucius Institute on the American side, CHEN Ying, Dean of Confucius Institute on BJTU side, and DONG Hairong, Deputy Director of Office of International Affairs of BJTU also attended the meeting.

After the meeting, the delegation visited the State Key laboratory of Rail Traffic Control and Safety, and History Exhibition Museum of BJTU. On June 24, the delegation visited Weihai International College of Beijing Jiaotong University.

Related links:
In December 2010, Chairman of the University Council, Mr. CAO Guoyong led a delegation to Texas Southern University and signed memorandum with John M. Rudley on the establishment of Confucius Institute. In May 2012, the founding of TSU Confucius Institute was approved by Confucius Institute Headquarters. President NING Bin attended the signing ceremony between Confucius Institute Headquarters / Hanban and TSU Confucius Institute on behalf of BJTU. In April 2013, Mr. CAO Guoyong attended the inauguration ceremony of TSU Confucius Institute.

The establishment and the development of Texas Southern University Confucius Institute have been greatly supported by Chinese Consulate General in Houston and U.S. Congressman Al Green. Mr. Al Green visited BJTU in April 2014 and was appointed as Honorable professor of BJTU.